Latin Grammy Awards 2023: schedule and how to watch the gala from Spain and Latin America
Up to ten artists are competing to win the gramophone for Best New Artist at the Latin Grammy Awards in their 24th edition, but only one is Spanish and his name is BORJA. The young Catalan singer and composer has been nominated for his great work in Rhymes of the verb to lovetheir debut album, which could make history in the most special edition of these awards that are celebrated outside the United States for the first time.
Nominated for Best New Artist at the Latin Grammys 2023
natascha falcao
Paola Guanche
Leon Leiden
Maréh
Joaquina
TIMØ
Ana del Castillo
Borja
Divine Connection
GALE
This Thursday, November 16, we will clear up doubts and find out if BORJA gets this precious award. Reasons for this are not lacking: 1. Music from the high chair
A few months ago we had the opportunity to chat with BORJA in this interview for WECB and he told us that music has been a constant in his life for as long as he can remember, even before, when he was just a baby. "I have videos in my house, in the high chair, that my mother feeds me and she only accepted to eat if she was with music or singing. So, I feel like I have always had her there," she clarified.
2. Early icons
BORJA is clear about who his great idols are: "I have a clear memory of David Bisbal in 2001 and that whole time of saying, "wow," I want to imitate this guy, I want to do what this guy does, you know? I think he imitated him a lot. He was one of my first idols," he says and acknowledges: "I grew up listening a lot Alejandro Sanz, from whom I listen to a song and it fills me in a different way. I try to do that with my lyrics," emphasizes the composer.
3. Pop as a gravitational center
In times where urban music dominates practically all the charts and where TikTok urges us to quickly consume songs, BORJA's sound proposal has more to do with that of a pop craftsman than with that of a theme factory. His compositions are reminiscent of the best Alejandro Sanz or Pablo Alborán. It recreates melodies closer to classic pop but with more contemporary coordinates. Although he is also a fan of rap and we find a little bit of that on his album in some songs that remind us of the first Beret.
4. An enormous sensitivity for writing
"And she wants me to calm her down and pamper her with tenderness / Swear to me that the world is not going to separate us / And even if you're not around, girl, you keep my madness", writes BORJA in one of the most tempting verses of the song Rhymes of the verb to love, which gives the title to his album. In lines like these we detect a great skill for composition and for giving a name, melody and voice to feelings that are difficult to explain. She has a great ability to explore love in a unique way and each song is a window to his deepest experiences and emotions.
Latin Grammys 2023: everything you need to know with nominees, performances and more

All the nominees of the Latin Grammys 2023 awards
5. Work and perseverance
The artist obtained a place to study in Berklee College of Musicthe school where illustrious musicians such as Charlie Puth or John Mayer. He told us about his experience there: "It was hard because there are a lot of good people… You realize that you think you are very good, but you come to the world of Berklee and you see so much level, so much talent that you say: 'wow', It intimidates you a little", but it also helped him find what he was better at than others and how to enhance his skills: "I am clear that transmitting and writing is my strength," said the artist.
6. Writing for Lola Indigo
It can be said that before embarking on a solo career, BORJA wrote for other artists and in his interview with WECB he told us how he ended up writing for artists like reik either Lola Indigo. "A friend of a friend told me: 'Hey, there are some sessions with Lola Indigo, a guy who was supposed to come has failed, you come and compose.'" And that's how she composed a song for the Andalusian artist (although she hasn't seen the light yet).
7. 'Rhymes of the verb to love', a very dual album
In his first studio work and through songs like Maybe, Air, Tension or Friends, BORJA tried to talk about that amalgamation of feelings that arise in relationships: the very happy ones, the melancholic ones and the not so good ones. In this exercise, trying to put himself in the other person's shoes, the artist managed to create an album in which all points of view were reflected. This is how he told us: "It is what rhymes with the feeling of loving, which many times are things that we like and many things that hurt us. But there is the duality. Being happy, learning to love someone, learning to love someone, Sometimes it doesn't happen and that's okay. Learn to be vulnerable, to express yourself. That's Rhymes of the verb to love and it is a very empathetic album that puts you in all the places and angles."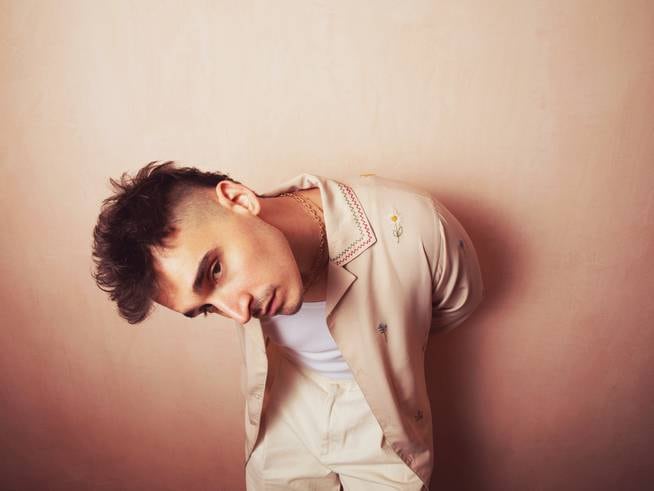 8. Future collaborations
Although he has spent a lot of time living and working in both Miami and Mexico, BORJA has settled in Spain for a while to work on his new projects. Here she is talking to artists like Paula Cendejas either Alba Reche with whom he admits to having a very good feeling. We don't know if collaborations will come from there, but there are contacts.
9. Relationships
It was precisely in Breklee where he began to build a good network of friends. She also had the opportunity to do internships at the Julio Reyes studio in Miami, which allowed him to enter the world and work with other artists side by side. As a result of his contacts in this studio, he has managed to attend the Latin Grammys on two occasions in recent years as a companion for artists who are friends of his.
32 images full of emotion and affection that make it clear why Laura Pausini deserved to be 'Person of the Year' at the Latin Grammys 2023
10. His third time at the Latin Grammys
Despite his youth and the fact that he only has one album released, it is striking that BORJA has already walked on the Latin Grammy red carpet on two occasions: in 2021 and 2022. The Catalan artist confessed to WECB that he was always accompanying to artists who are friends of his and that they were unique moments, but this year he is especially excited now that he is the nominee and that he is also playing at home, since they are held in Seville.