The grand premiere of the new movie The Hunger Gameswhose title is almost a challenge in itself (JdH Ballad of Songbirds and Snakes) so I prefer to call it the prequel to The Hunger Games, is getting closer. In fact, Hollywood already experienced its premiere with the entire cast stepping on the red carpet and with prominent personalities and guests such as Olivia Rodrigo.
The singer is almost another protagonist of this new story on the big screen since she has composed, sung and added his image to one of the songs on his soundtrack: Can't catch me down. For this reason, the interpreter also paraded at the event and attended to all the gathered media, leaving some headlines about what her debut in the saga had meant for her.
"It was a really fun challenge for me as a songwriter, because a lot of my songs are about my personal life. They're very journalistic and confessional," Olivia Rodrigo joked to Entertainment Tonight explaining the fictional dimension that this new topic had for her.
But the task, despite being complicated, was pleasant for the young American who confesses to being a great admirer of the history of the franchise. "It was a wonderful experience trying to write something about the character of Lucy Gray. He is a character that I feel very connected to. For me it was a great honor because I am a big fan of The Hunger Games and the soundtracks of The Hunger Games. When they asked me to do this, she was very excited and very nervous."
An emotion and a talent that we have seen on stage thanks to the video clip of the song which takes us to some moments of the feature film and where we wouldn't mind seeing Olivia Rodrigo herself being part of some district.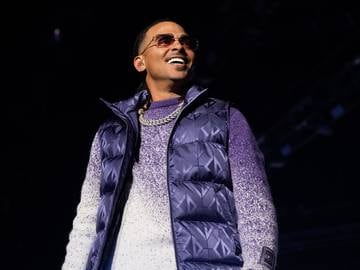 Ozuna talks about his unreleased songs with Rosalía: "A collaboration can come out at any time"
The next Hunger Games movie (JdH Ballad of Songbirds and Snakes) stars Rachel Zegler alongside Tom Blyth, Peter Dinklage, Hunter Schafer, Josh Andrés Rivera, Jason Schwartzman and Viola Davisand follows the story of Coriolanus (Blyth), who is the last hope of his failed lineage (the Snow family) who has fallen from grace in a post-war Capitol.
The singer also explained that after this premiere she will focus on her imminent world tour (Guts World Tour) that will travel the entire planet: "I'm putting everything together right now, brainstorming about everything. I'm running on the treadmill right now singing my songs, because I want to be able to jump up and sing the songs. I think it's going to be a lot of fun. I want the show to feel like a great place for people to scream, jump and let loose," he told The Hollywood Reporter.
And it seems that one song has the advantage over the others: "I really love the song All-American Bitch and I think it will be very fun to perform it live. That's a big scream, so I hope people let out all their frustrations about that," commented Olivia Rodrigo.